New Single for April 12th
The new album to be entitled "The Long Fade" will be ready mid Spring. There are many collaborators contributing to this album and we're all very chuffed with it.
We'll be going into our first rehearsal on Monday for our show at The Steel Club Consett on April 11th. Tickets are available from the venue or online at bit.ly/steelclub
On April 12th we will release a single from the album "Like My Father's Father" C/W "Red Dust Overture". Ticket holders for the Steel Club gig will get a FREE copy of the single a full day before official release. The two tracks are very much tied to my home town of Consett. And here's an added bonus: the original singer of my Consett band Bullfrog (formed in 1969) Mick Glancy will contribute to the single. Mick will be going into a radio station near where he lives in Devon to record his part for the "Father's Father Industrial Choir"
There have been quite a few of these distant collaborations. Steve Lamb (formerly Tygers of Pan Tang) has just turned in some terrific guitar parts for "Behind The Wheel", a song I originally recorded with Alvin Stardust. The track features John Gallagher of Raven on bass and vocals plus the only core band member on the track Ian Halford on drums. I quickly recorded the track over the Christmas holidays. John had just got in touch to say he was in the UK visiting family and would I like him to guest on the album. With just a week to spare, I went into Green Dragon Studios in Stockton and laid down programmed drums, bass and keyboards. These parts have now been replaced with a power trio. Johns vocals and bass in Customs Space, South Shields, Ians Drums in TSOM in Thornaby and Steve's guitars in Bournmoor Barn.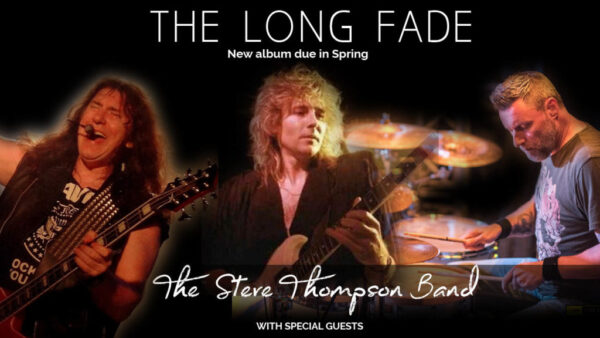 So, The Long Fade will feature everything from pop ballad "Hurry Home" to the hard rock of "Behind The Wheel" and everything in between. Expect that sometime in May. Meanwhile, look out for the single on April 12th or get it free the day before by getting tickets to our Steel Club show in Consett.