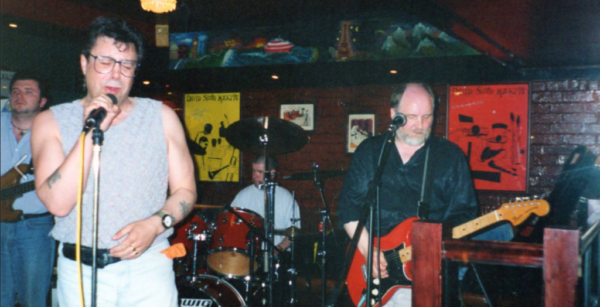 Over the years mine and Mick Whitakers paths have crossed many times. Around 1997-1999 I was gigging in a line-up with him that I thought was really good. The pic to the right shows Mick, Ken and me at the Bierex in Newcastle, one of our regular gigs. For me. this was probably the most enjoyable live performance period of my music career.
Mick Whitaker (Panama Red) Vocals/Percussion
Andy Hawking (Bobby Decent) Keyboards/Vocals
Steve Thompson (Davewudsurvivor) Guitar/Vocals
Ken Goodinson (Harry The Bastard) Drums
Richard Rutherford (Jack Death) Bass
Below is a gig list I found on my PC – I would say this was 1999. Sadly my involvement in this band came to an end when I moved to Teesside. I recall that Ousburn Delta gig outdoors on a sunny Sunday afternoon. I intended recording it but didn't. I wish I had as it was incredible. It was meant to be me, Mick and Andy performing "unplugged" but Richard and our new drummer Graham (playing brushes) came along too. We were no boy band but as Mick, Andy, and Me, sang an acapella harmony there was a clearly audible sigh from the audience.
11 July Turks Head South Shields
24 July Archer Newcastle
25 July Bierex Newcastle (early afternoon)
25 July The Tyne – Ouseburn Delta Folk & Blues Festival (late afternoon)
31 July Butlers – Nunn St Newcastle
04 Aug Hyena Cafe – Leazes Lane Newcastle
05 Sept Turks Head South Shields
02 Oct Archer – Newcastle
06 Nov Turks Head South Shields
14 Nov Bierex Newcastle
18 Dec Turks Head South Shields