Out-Takes Rarities And Demos
Album an entirely free download when you purchase THE LONG FADE album. (track listing below)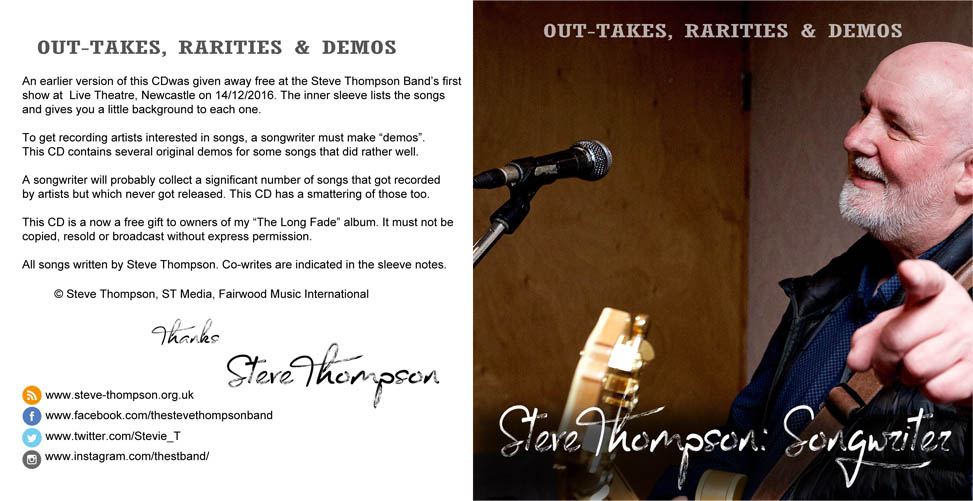 01: 'The Last Teardrop' this version is sung by Lorraine Crosby, whilst a little later Elkie Brooks went on to record it as a single and on her album Pearls 3.
02: 'I Don't Want To Be the One' was recorded by The Searchers. The vocals on this version are by The Caffrey Brothers, the instrumentation is just me with Paul Smith on drums.
03: 'Innocent Victim' is a rare unreleased recording of another of my songs that The Searchers also recorded. It eventually turned up on their 40th anniversary album.
04: 'Hurry Home' This is my early quick demo of this song that became a massive hit, spending 3 months in the UK charts. I laid this down quickly after having recorded "In League With Satan" by Venom. The band were breaking down their rig in the studio as I went into the vocal booth with my acoustic guitar.
05: 'Please Don't Sympathise'. The demo of this song is sung here by the late Dave Black. In 1983 Sheena Easton released this song on her top 20 album Madness Money and Music. The following year Celine Dion released a French adaptation of the same song as 'Ne Me Plaignez Pas'. It was a hit single in Canada going Gold and the album it was on sold 500,000 copies in Canada and 700,000 copies in France.
06: 'Laugh At It All'. This is another song from the same recording session as the previous song again sung by Dave Black.
07: 'Laugh At It All'. Producer Chris Neil produced two significant recordings of my songs: 'Hurry Home' with Wavelength and 'Please Don't Sympathise' with Sheena Easton (which Celine Dion also recorded) This is Chris Neil singing one of my songs himself. He did this under the name of Favoured Nations but the track was never released. 
08: 'I Don't Understand You' recorded by The Hollies but never released. I'm playing keyboards on it.
09: 'It Takes Love to Know Love' I co-wrote this with Tim Rice and this unreleased version is sung by Elaine Page.
10: 'I Don't Understand You' The same song that The Hollies recorded this time a demo by Colin Blunstone and Dave Stewart. (again unreleased)
11: 'One of A Kind' is another collaboration with a talented wordsmith, this time Tommy Morrison (sadly no longer with us) The version on this album is an early demo of Tommy singing the song which Elkie Brooks included on her album Pearls 3. 
12: 'For Luchia' In 1983 I wrote English lyrics for the Italian Eurovision entry. The Italians needed a rapid turnaround and this is the demo as sung by Tommy Morrison, late that night in my kitchen.
13: 'Love Takes Prisoners' Those Chirpy Chirpy Cheep Cheep guys, Middle of the Road would record this for their album 'Today', and here is Lorraine Crosby singing it.
14: 'Sleepin' Train' Another song co-written with Tommy Morrison especially for Paul Rodgers sung by Terry Slesser.
15: 'Disco Me to Ecstasy' is the demo of a song which would have a name change when recorded by Baby Ford as 'Chikki Chikki Ah Ah'. This single has the distinction of being a hit as well as earning a BBC ban. This version also features Lorraine Crosby on backing vocals.
16: 'Looking For Love in a Stranger' this is the original demo sung by Mick Whitaker. Chris Farlowe also recorded it. Chris's version remained unreleased for several years and then came out on 3 different albums: "R.O.C.K.", "One Night Stand" and "Rock N Roll Soldier".
17: 'Hypnotised' an unreleased track I wrote with Colin Blunstone and John Verity. I'm on keyboards and bass. John on guitar and BV's. Colin sings lead.
18: 'Hollow Victory' I know I often talk about my lack of vocal skills but I have such a fondness for this particular song that it has sneaked through. 
19: 'Bar the Doubting' is a song written for Kerrianne Covell and this is the very first run through as recorded on an iPhone before the song was even completed. The full version appears on THE LONG FADE album.
20: 'Paris by Air' this is the original version sung by Toni Haliday, it was a hit single and album track for the Tygers of Pan Tang.
21: 'Catch A Fast Train'. I gave this song to Andy Taylor to sing. He was 16 at the time and told me he was gonna be a rockstar. This was going to be the third single on Neat Records and then along came Tygers of Pan Tang and everything changed. Andy was unperturbed, he went on to join Duran Duran. 
22: 'Hurry Home' sung this time by Sarah Brightman. Sarah gave this recording away on her 100 date 'La Luna" world tour. I'm returning the favour.
23: 'The Greatest Adventure'. I think this is the song I'm proudest of writing. And yet it sold nary a copy. Sung here by Frank Ryan and produced by my old friend, Gus Dudgeon.
24: 'Scared To Death' an unreleased track I wrote with Colin Blunstone and John Verity. I'm on keyboards and bass. John on guitar and BV's. Colin sings lead.
25: 'Sometimes You Wonder', The song that closes shows by the Steve Thompson Band. Sung in this instance by the late Alvin Stardust. (unreleased)