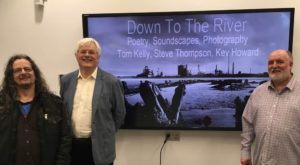 'Down to the River' premiered at the National Centre for Spoken Word in January 2017. Now you can enjoy it here https://steve-thompson.org.uk/dttr/ by clicking through the numbered tabs at the top.
The exhibition takes as its source the poem, 'Geordie,' which features in Tom Kelly's poetry collection 'Dreamers in a Cold Climate' (Red Squirrel Press).
Kelly reads the poem as Steve Thompson, musician, songwriter and producer creates a stunning soundscape. Photographs are by Kev Howard.
This work is centred on the North-east of England but could well be Chicago or Glasgow the impact is equally devastating and is all too soon forgotten by the powers that be.
'Down to the River' gives a voice to those made mute by history.