It was 1983 and I had just signed an exclusive songwriting deal with MCA Music. Record Producer, Gus Dudgeon wrote to MCA complementing them on their wisdom in signing me and urged them to get me cracking on some songs for the new Elkie Brooks album. I'd worked with Gus a few times up to then but over the years I was to work with him a great deal. I thought it was really generous of him to write to my new publisher like that. To non-musicians, Gus may not be a household name but the artists he produced are certainly well known: David Bowie, Elkie Brooks, Joan Armatrading plus the majority of Elton John's output. He also produced a slew of North East acts: Lindisfarne, Chris Rea, John Miles.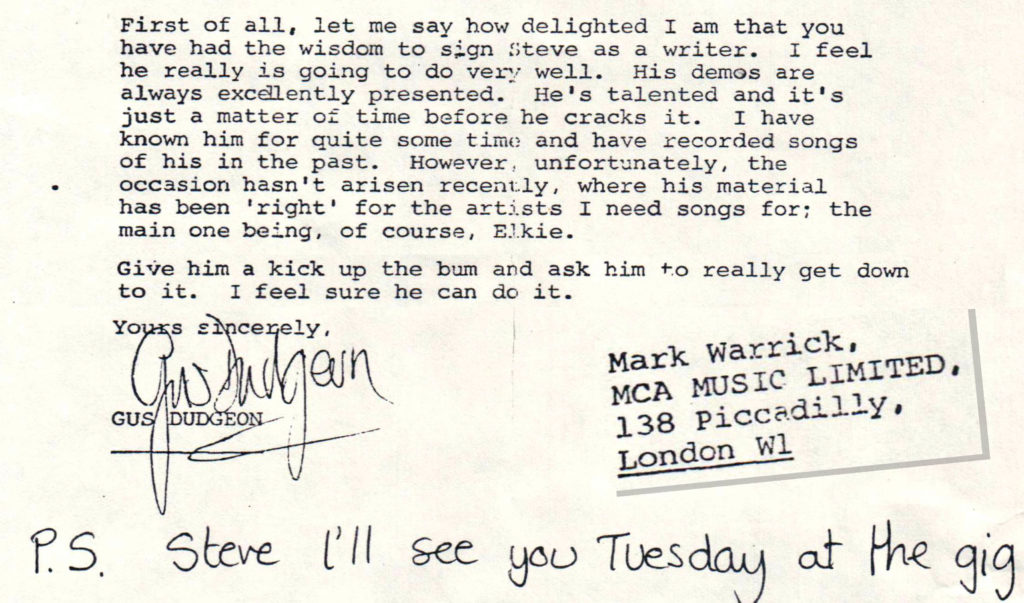 Obviously, I was definitely going to take up the Elkie Brooks challenge but I also knew how pernickety Gus was about songs, and so I devised a cunning plan. I figured the best way to get a cut on the next Elkie album (Gus had produced Pearls and Pearls ii) was to invite him to write it with me. As it turned out I was wrong, I figured he would just let me write the song and toss in the odd comment and earning himself 50% of the song as he did so. He had never written a song before but as it turned out he did not plan on being a passenger in the writing process and was determined to play a full part in the collaboration. To be fair the concept for the lyric was Gus's idea. A songwriter working late at night when their partner/lover detects something strange in the lyrics. Gus also declared that what would be great for Elkie was a Doobie Brothers groove. I must say it all turned out to be quite an adventure.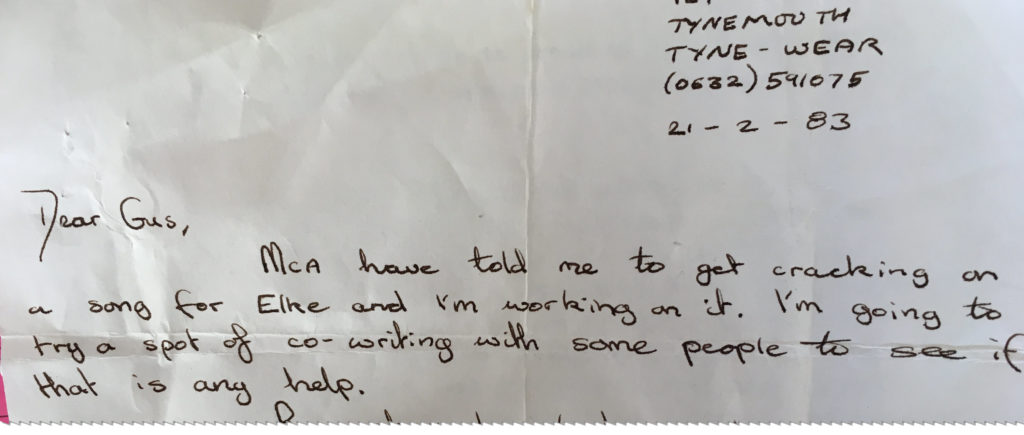 The writing sessions started out at MCA's offices. The MCA staff were really excited about this and they had a removals firm come in to move a grand piano out the MD's office into a large open area. Our songwriting began right there but it was kinda odd as people kept stopping by to take a peek. Gus declared that the next day should be different so he had MCA rent a whole rehearsal room complete with a stage and a PA. Talk about overkill !
So the next day just after noon we turned up at Nomis Studios in West London for the next phase of the writing process. I neglected to mention that the man who signed me to MCA and was my mentor there was Pete Waterman. Pete managed a producer called Peter Collins who was also starting to record a lot of my material. We borrowed an acoustic guitar and drum machine from Peter Collins for the writing session.
Gus and I were ready to begin writing session part 2 when all hell broke loose, There came a thunderous noise from next door and various parts of the room were shaking. When it stopped we went through and, lo and behold it was Motorhead having a little rehearsal with the amps turned up to 11. I think Gus knew the guys and we had a little chat. Lemmy said they would be going off to the pub soon. After a couple more songs, sure enough, they did just that, never to return. Gus and I continued to work on our song and just like any session with Gus it went on and on and on. Gus's approach to production is to push the artists to the limit of their ability. Always more, "give me more". What works for production may not be the best approach to songwriting because what we ended up with was a tough song to sing.
The first bit on the audio/video is me singing the half-completed song. That's me playing an acoustic with a pickup through the PA and singing my guts out. I must have had some bottle in those days because there I am performing solo in front of the man who produced Bowie's Space Oddity. You can hear Gus joining in here and there and the odd interjection. It's great to hear his voice again because, like many of the people in these song stories, Gus is no longer with us.
The next bit is a bit of a blur. Either we worked really late or else had dinner but my memory kicks back in as we are driving around London in Gus's Aston Martin quite late at night. I pointed out that we're supposed to return the guitar and drum machine to Peter Collins and it's getting late. As we approach Peters street, Gus decides to call him. This is him being flash – nobody else I know had a phone in their car in '83. Peter answers, "Hi, it's Gus, we're going to drop your kit off – just making sure you're up". Peter asks how long it will take to get there. Gus says, "two minutes, we're turning into your street". Looking back now realise this may have had something to do with Peter's demeanour because when he answered the door he was in his dressing gown, his eyes were wide and he was very nervous. He invited us in and gave us coffee. Gus rolled a huge spliff and started to tell us some ripping yarns from his music production career. Terrific stuff with many twists and turns but he always returns from the tangents every time without losing his thread. Eventually, Gus says to Peter "I'm sorry old chap, we're keeping you from your bed". Then Peter says, "no problem, YOU ARE MY BIGGEST HERO". I was Gobsmacked. Peter had enjoyed a zillion hits that year and at that moment in time was hotter than Gus. I'm talking about, Gary Moore, Bon Jovi, Billy Squier, Rush, Air Supply, Nik Kershaw, Tracy Ullman, the list goes on.
We finally said all goodnight and I stayed over at Gus's place in Cobham and the next day I headed home. The next step would be to produce a rough demo and then a full demo which Gus declared he would come to Newcastle to produce.
And so, the next piece of audio on the collage is my rough home demo. The lyrics aren't finished and the arrangement is not settled. As you can hear, it's a struggle to sing. I'm not the world's greatest vocalist, far from it but this song would tax any singer as it had such a sweeping range.
Next on the tape/video is a version with Phil Caffrey singing. I think it's Barrie Spence on bass, Paul Smith on Drums and me on Guitar and keys. I hear my Cassio keyboard in there.
So, Gus planned to come to Newcastle to produce the ultimate demo. I booked Lynx studios in Shieldfield and had John Cook on keys, Frankie Gibbon on bass, Paul Smith on Drums and I brought Maureen Harold (Mo Scott) in on vocals. This is the next recording on the tape/video. We worked at it and at it and at one point Gus wanted to edit the 2-inch 24 track master tape. I explained to him "Gus, have you any idea how much a reel of 2-inch tape costs? We don't cut it up in demo studios." Eventually, Gus threw up his hands and declared that he didn't know how to produce a demo. He said he was going home and asked me to finish it the recording. I booked in the following week and did just that. John Miles came round at the end of the session and picked up the finished master tape as he was working with Gus himself the following week. And so the demo of "Going Solo" headed South for its date with Elkie Brooks.
Not long after Gus got the finished song demo he had a date to go to Elkie's home in Cornwall and discuss the proposed next album. Gus had produced her last two albums Pearls 1 and Pearls 2 and both had been hugely successful. Obviously, at some point, he would introduce our song into the proceedings and propose it for the album. When Gus got back home he called me to tell me the outcome. I waited on the other end of the line with baited breath. Then Gus tells me what had happened that weekend at Elkie's place. Over dinner one evening she fired him as her producer. There would be no next album, not one produced by Gus anyway. The format with the two Pearls albums was to cover other artists songs. A highly successful formula as it happens. However, Elkie was tired of that format and wanted to do an album of her own material.
So all that effort (enjoyable though it was) came to nothing and the song remained on the shelf to this day. However, several years later Elkie did record two of my songs but it was totally disconnected to Gus and the Going Solo episode. I'd been pitching songs her way and one day Elkie called me out of the blue and said she wanted to use my song "One of A Kind" (co-written with Tommy Morrison) on her next album. Guess what? The album was to be called "Pearls 3". I asked if there were slots for any more songs and she said yes, they were still looking for a track to use as the first single. So I sat down and wrote another song especially for her. This was "The Last Teardrop". A few days later I got another call from Elkie, she loved "Teardrop" and what's more, provided it worked out in the studio, she thought it could be the single she had been looking for. (and it was eventually the single) In all of this, I never did mention "Going Solo" in case it was a taboo subject.
You can hear both of my songs Elkie Brooks eventually recorded at my next gig with my six-piece band at The Georgian Theatre, Stockton on March 25th. It's an afternoon gig at the newly refurbished Georgian. Come along and here all the songs as well as the stories behind them.