COLIN BLUNSTONE: A PERSONAL REFLECTION
This article about my time working with Colin Blunstone first appeared as an exclusive to the Zombies Fan Club. Click here to read it on the fan club page.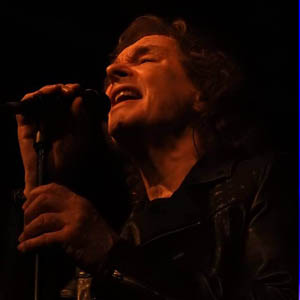 I was always a fan of Colin Blunstone's singing, so when he recorded my song "I Don't Understand You" in 1982 I was delighted. Unfortunately, the track never got released, but such is the songwriter's lot!
Fast forward to 1985 and I appeared on the same bill as Colin. The event was a fundraiser for the Bradford City Disaster appeal after the fire at the Valley Parade football stadium, held at St. George's Hall in Bradford. There were some memorable moments in that show. For one, I remember trading keyboard licks from my position stage left with Rod Argent placed stage right! Anyone who is aware of my ham-fisted keyboard style will see the humour in that scenario.
Rounding out the night, we had a massive jam session with everybody onstage. With Jim Rodford and Bob Henrit both in The Kinks at the time, they wanted to do a couple of Kinks songs. We all busked our way through "You Really Got Me" but "All Day and All Of The Night" was not so straightforward. We all got the riff, no problem, but there's a couple of tricky chords under "the only time I feel alright is by your side". Jim and Bob knew it, of course, but the rest of us couldn't quite get it, so the song sort of petered out each time we got to that bit, apart from the bass and drums.
Along the way, I got chatting to Colin about songs and stuff, and we thought it would be a good idea to write something together. I was doing a lot of work with John Verity at the time, co-writing and playing on a couple of his albums. The three of us agreed to cut some tracks and a few months later we descended on John's "Somewhere In Yorkshire" studio. I recall that Colin had a couple of ideas for titles and storylines. "Scared To Death" was inspired by a certain fallen-from-grace rock star receiving a bad press in the tabloids. And "Hypnotised" came about because a friend was quitting smoking that way. Over the course of three days, we did indeed write and record those two songs. Sadly, all I have left of them are partial recordings. The tapes are long gone. (Aditional note: Colin Called me last night and we're trying to reconstruct the songs from memory!)
Those sessions produced their own fair share of memorable moments. At one point, John V was mixing down some backing vocals, so Colin and I went out to the field behind the studio to play football. Not a kickabout mind you, a full-on competitive match with one man in each team and makeshift goal posts. Considering the size difference between us (I'm quite small in stature, and Colin quite tall and athletic), it was a bit of an uneven matchup, and at one point I ended up going right over the low fence around the field! It was all in good humour, though, and we both were in gales of laughter. Luckily John was calling us back into the studio, so I escaped without further incident!
But by far the most memorable event came during a quiet moment in the studio. Colin picked up an acoustic guitar and began strumming. Then he began singing "I Don't Believe in Miracles". It was wonderful, the room lit up. The sound he made was so beautiful that I imagined a ray of sunlight beaming down on his shoulders as tiny animated bluebirds fluttered above his head. Ok, overly poetic I know but hey, I'm a songwriter, I get to do that. Memories are made of this.
With special thanks to Susan Enterline and Steve Rossi
Here for you are the three songs mentioned in the article (all previously unheard by public ears)