A cracking band who share a marvellous bonhomie, the "Steve Thompson Songwriter" show is a must for anyone with the slightest interest in music. It's entertaining, informative and it 'works'. Look out for this show. (Ian Wood, Get Ready to Rock)
[one_fourth padding="0 4px 0 4px"]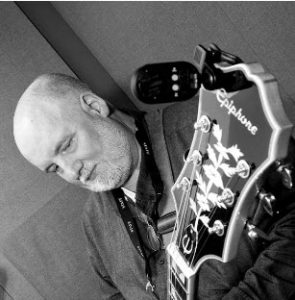 [/one_fourth][three_fourth_last padding="0 4px 0 4px"]
Steve Thompson – Guitar/Vocals
Steve's musical career began with Bullfrog, a rock group born out of the Steeltown of Consett UK about which he later wrote a musical (The town AND the band). Bullfrog were signed to Cube records but Steve soon moved over to his first love – songwriting. He has notched up several hits and has written for world-famous artists such as Celine Dion, Sheena Easton, Elkie Brooks, The Hollies, The Searchers, The Tygers of Pan Tang, Baby Ford, Colin Blunstone, Sara Brightman, Elaine Page, Chris Farlow. Along the way, he turned producer and produced some key recordings during the New Wave of British Heavy Metal (NWOBHM) including Raven, Venom and The Tygers of Pan Tang. The new band will seek to produce a sound that produces a clear line from Bullfrog through all the above artists to the present day. Full details on biog page or Wikipedia.
[/three_fourth_last]
[one_fourth padding="0 4px 0 4px"]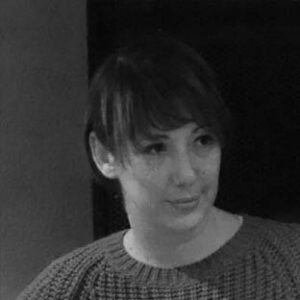 [/one_fourth][three_fourth_last padding="0 4px 0 4px"]
Jen Normandale – Vocals
Performing live with school-band Clarion when she was just 14yrs-old, Jen has already racked up 17yrs of gigs on the North East pub scene, namely with hard-rock covers group, Alcatraz House Band. Jen toured the UK with original bands Remedy and The Karma Heart (2007-2014), joining Meatloaf's daughter, Pearl Aday, and Anthrax guitarist, Scott Ian on the road for a brief spell. Other supports throughout the years include The Quireboys, Slaves To Gravity, Heaven's Basement and Boy Jumps Ship with appearances at O2 Academy, Hard Rock Hell, Santa Pod Raceway and a number of notable motorbike rallies such as Bulldog Bash and Stormin' The Castle main stages. Although well-known for belting out rock-favourites by Led Zeppelin and AC/DC, Jen enjoys turning her voice to various styles of music and took time to travel abroad with a residency in Abu Dhabi and two years onboard ocean cruise-liners fronting party band Solitaire. Jen returned home in 2016 to concentrate on songwriting, recording and session work under the artist name Jenn Cherene, and continues to gig around the northeast with Alcatraz House Band.[three_fourth_last padding="0 4px 0 4px"][/three_fourth_last]
[one_fourth padding="0 4px 0 4px"]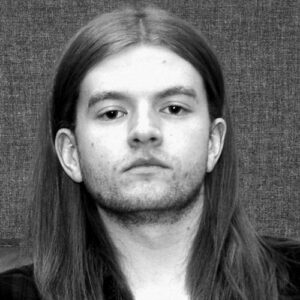 [/one_fourth][three_fourth_last padding="0 4px 0 4px"]
Jack Mylchreest – Vocals & Guitar
Jack  is a prodigious 20 year old blues-rock guitarist/ songwriter from the North East of England.
As well as being a blistering guitarist, this multi-instrumentalist also writes and sings all of his own material which he performs with his three piece band.
Jack also performs solo acoustic gigs and hosts a number of buskers nights.
Recently, Jack has supported artists such as Geordie and Danny Vaughn at The Cluny in Byker. He  is currently working with Steve Thompson on his new album "Naked In The Danger Zone" as well as being an active member of Steve's band.[three_fourth_last padding="0 4px 0 4px"][/three_fourth_last]
[one_fourth padding="0 4px 0 4px"]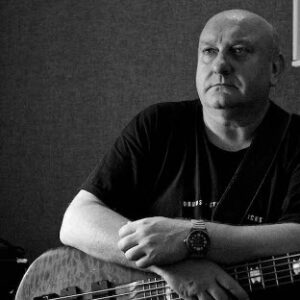 [/one_fourth][three_fourth_last padding="0 4px 0 4px"]
John Dawson – Bass
A 40-year career has seen John perform across the world from the States to festivals across Europe and Wembley Arena – even sharing a stage with Robert Plant (Led Zeppelin). His work with the Russ Tippins Electric Band (albums Electrickery and Combustion) led to two successive nominations for best bass player in the British Blues Awards. However John is equally at home playing all genres and styles; currently demonstrating his versatility working with GrooveTrain (funk/soul), U2 Tribute act Vertigo and of course The Steve Thompson Band. John is also an in-demand session musician; touring and recording with CRS award-winning Prog rock band DeeExpus (album The King of Number 33) and recording tuition CD's for Total Guitar Magazine. His theatre credits include the bass chair for productions of We Will Rock You, Jesus Christ Superstar, Rent and Footloose. John is an endorsee artist for Spector Bass Guitars and Aguilar Amplification.[three_fourth_last padding="0 4px 0 4px"][/three_fourth_last]
[one_fourth padding="0 4px 0 4px"]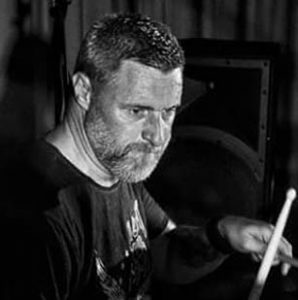 [/one_fourth][three_fourth_last padding="0 4px 0 4px"]
Ian Halford – Drums / Vocals
Ian is a gifted session musician and teacher, performing extensively as a professional drummer, percussionist and singer for over 25 years with a wide range of touring acts. Ian plays drums for local bands Groovetrain & The Russ Tippins Electric Band. He has played at venues and festivals across the UK and Europe and was also nominated in the British Blues & Soul Awards. High profile gigs have included support-slots with Rory Gallagher and Jools Holland. Ian is endorsed by Liberty Drums.[three_fourth_last padding="0 4px 0 4px"][/three_fourth_last]
[one_fourth padding="0 4px 0 4px"]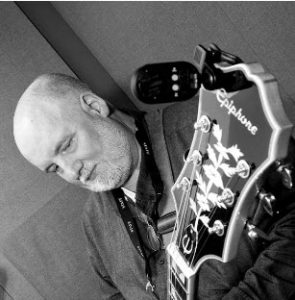 [/one_fourth][three_fourth_last padding="0 4px 0 4px"]
Richard Naisbett – Keyboards
Richard has worked as a professional keyboardist and pianist since 1997, performing in a diverse range of musical situations including big bands, rock and soul bands, jazz ensembles, TV productions, musical theatre, restaurant gigs and wedding and function bands. As a music lecturer Richard also has led bands at venues such as the Newcastle O2 Academy, the Cavern Club in Liverpool and at several recording sessions at Abbey Road recording studios. Richard currently plays keyboards in the Kirsty Forster Project, who perform in venues across the region.[three_fourth_last padding="0 4px 0 4px"][/three_fourth_last]