IRON MAN OF NORTON: Second Shipment – Various Artists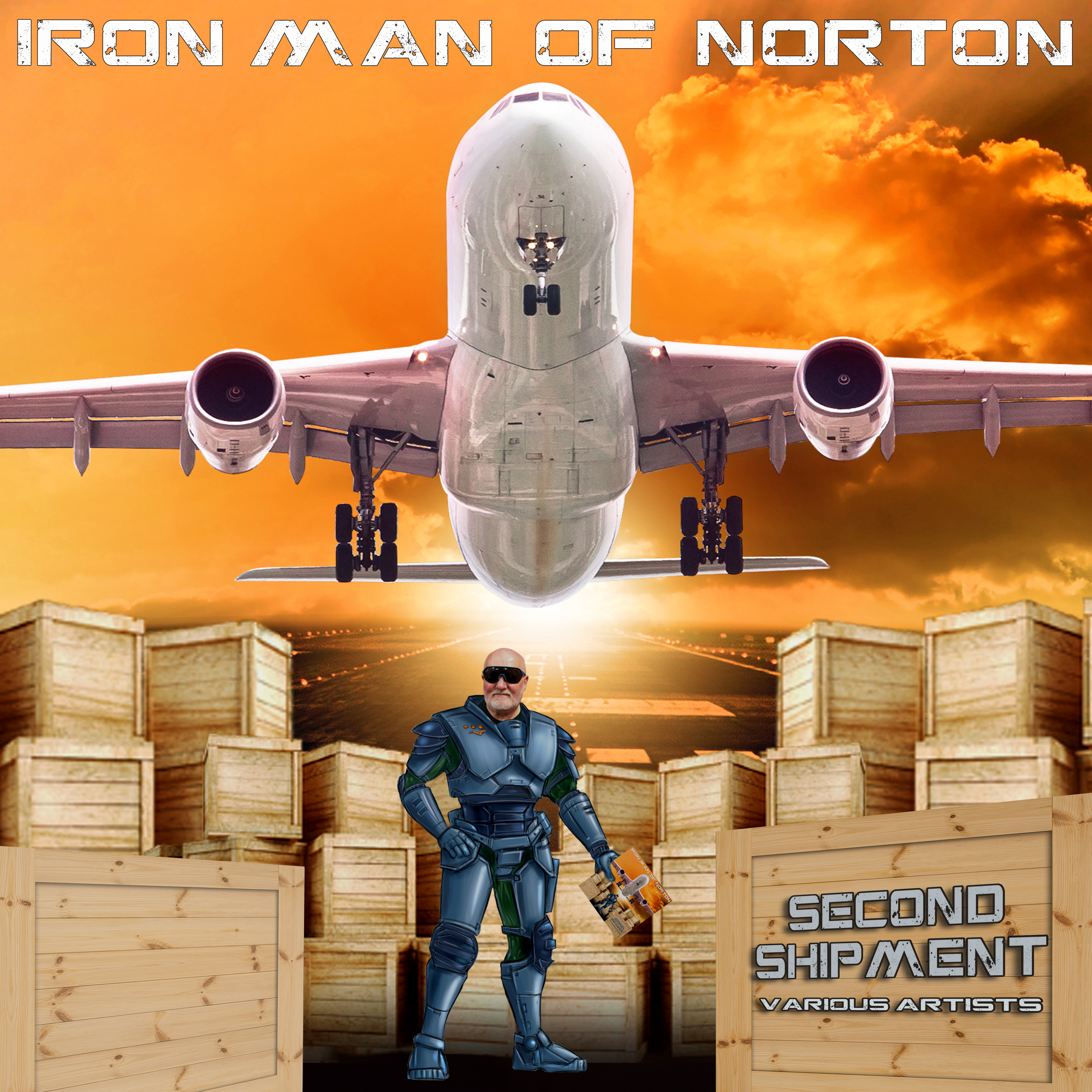 Available on all the platforms: Spotify, iTtunes, YouTube etc. Look for the platform icons to the right or below and click on your choice
With fabulous artwork by Mark Mylchreest, this is the second set of various recordings I have made over the years.  The collection features a vast range of artists. Just take a look at the track listing below. I discovered in my archives a recording of Tommy Morrison singing his song "When The Truth Comes Home". A Lovely song. He up and played it to me one day on acoustic guitar.  It just blew me away. It sounds like I must have included it in one of my demo sessions, probably at Lynx studios in Newcastle.
I always loved Empty Pockets. Vocals and Sax are by David Baird. The track is just Paul Smith and me. Pretty minimalist. I recall we put a dustbin lid on the snare to get that sound.
Many of the tracks were recorded in the studio built in my house in Whitley Bay. Folks used to call around and just add something to whatever I was busy recording. Beautiful Sight is one such song. Lorraine Crosby had laid down her vocals when Steve Lamb called round. He played that beautiful solo on his white Gibson SG.
| | | |
| --- | --- | --- |
| 1 | REWIND | Empty Pockets |
| 2 | BABY FORD | Brand New Man |
| 3 | THE BRIEF | Front Page News |
| 4 | CAFFREY | In A Dream |
| 5 | TONI HALIDAY | I Love Every Moment |
| 6 | LORRAINE CROSBY | Beautiful Sight |
| 7 | ANDY TAYLOR | Catch A Fast Train |
| 8 | RAMALASH | Way Of The World |
| 9 | TOMMY MORRISON | When The Truth Comes Home |
| 10 | TONI HALIDAY | Looking For Love In A Stranger |
| 11 | BABY FORD | Lisa Lisa |
| 12 | RAMALASH | You Shook The World |
| 13 | NIGHTS THAT PASS IN THE SHIP | Nothing Doing |
| 14 | TONI HALIDAY | Bad News Boy |
| 15 | TONY McPHEE | Born To Be With You |
| 16 | THE BRIEF | Girls In Mini Skirts |
| 17 | RAMALASH | Let's Make Up |
| 18 | BULLFROG | Just A Chance |
All tracks produced by Steve Thompson
All songs written by Steve Thompson except:
2, 11 – Steve Thompson & Pete Adshead
3, 16 – Steve Thompson & Gary Maughan
9 – Tommy Morrison
15 – Tony McPhee
17 – Bullfrog