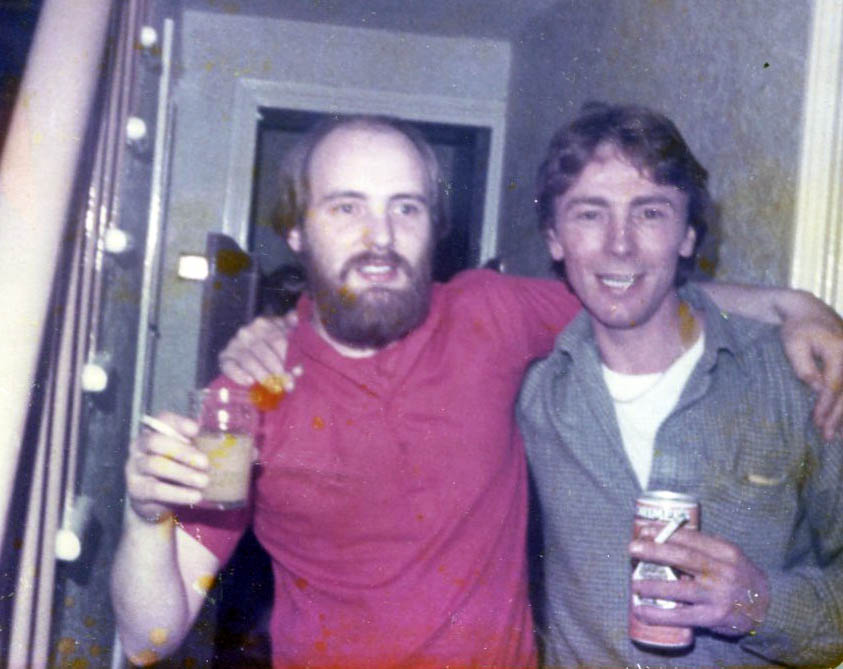 Over to the right or perhaps below if you are on a phone are links to all the platforms where you can download or stream these songs.
Tommy Morrison was a very good friend of mine and a terrific songwriter. We wrote many songs together and I also demo'd for him some of his songs he'd written alone. The picture features me and Tommy at the housewarming party of my new abode in Whitley Bay. The royalties from my top 20 hit "Hurry Home" had funded this move. I built a recording studio  and it became a mecca for many years for my musician friends.
Throughout the nineties this amounted to a good many recordings. Some folks may be interested in this production note: I always recorded my guitar through a miked up amplifier. A fender twin reverb. No pedals and never by direct injection. The amp was always set up in the vocal booth and I ran a cable out to it.One day I was jamming and particularly enjoying the guitar sound. Later when I went to shut everything down I found that the mic had dropped out of the mic n and was lying on the floor in front of the amp. From henceforth and for every guitar track on this album, I miced up the amp in this way: A mic laying on the floor in front of the amp.
Tommy and I  co-wrote a song Elkie Brooks recorded "One Of A Kind", a version of which is on my own album "THE LONG FADE".  We also co-wrote a couple of songs for Paul Rodgers with whom Tommy had a complex relationship/friendship. Two songs made it to the final cut but Tommy and Rodgers fell out once more and it was not to be. 
Around 2008 Tommy sent me a £10 note, a typical Tommy gesture, and asked me to digitize the recordings we'd made throughout the nineties. I made a start but I soon got distracted by other stuff. 
Then in 2012 I met up with another old friend and was shocked at the number of mutual acquaintances this old friend told me had passed away. So I had a ring around all my friends that I had been so remiss at keeping in touch with. 
I got Tommy's answering machine so I left a message: "Tommy it's me, Steve, are you still alive"? Later that day he called me back. He told me he was indeed still alive but it had been touch and go. He said that he had exhausted himself moving a piano with another guy. Then he'd had a "beef and cholesterol pie". As a result he'd suffered a heart attack. When they got him in to study him it was found that he had cancer of the lung so as a result he'd had half of one lung removed. "Jeez Tommy", I said "I'd better get on with Digitising that stuff for you before you pop your clogs"
And this I did, trawling through DAT tapes. There are only two people on those recordings. Phil Caffrey providing amazing vocals and me doing the rest. They're demos with klangy drum machines but there is also a vibe and a groove. And so was born the album "Sleepless Nights". The band: Caffrey Morrison Thompson. 
I took 10 CD copies to Sunderland and gave them to Tommy as we had lunch together. The very last time I saw him in fact. I'm so pleased I finished that project. It made Tommy so happy. And I'm sure he'd be equally delighted when Cherry Red Records release this album on May 14th
Tommy Morrison passed away in January 2014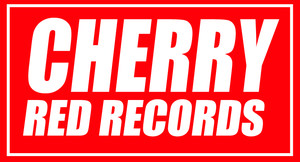 Available on all the platforms below







Track Listing
Sleepless Nights (Morrison)
I Feel The Same (Morrison)
Sleepin' Train (Morrison, Thompson)
Lovin' Arms (Thompson)
What To Say (Caffrey, Morrsion, Thompson)
Your Finest Hour (Thompson)
Never Say Die (Morrison, Thompson)
You Call The Tune (Morrison)
One Of A Kind (Morrison, Thompson)
Easy Street (Morrison)
The Last Teardrop (Thompson)
Let Me Hold You (Thompson)
Friday (Caffrey, Thompson)
We Don't All Get To Go To Heaven (Morrison)
Produced by Steve Thompson