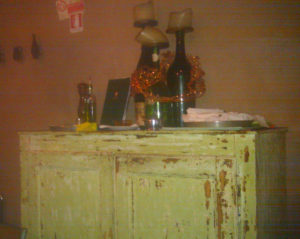 Both albums featured in this post are available on all the platforms: Spotify, iTtunes, YouTube etc. Look for the platform icons to the right or below and click on your choice.
It was a balmy night in the beautiful old town of Prato in Tuscany. I was the only occupant of the restaurant. As I sipped my Chianti, I enjoyed the sounds of soft electronica wafting out from the speakers. As the Chianti took its mellow hold and the music wafted over me, I contemplated a possible new music project. What about a collection of music that evokes places I've been to, that have made a mark on me? The resulting album would be called "Places". The next day, as a possible Prato piece in the project, I recorded the sound of the chiming bells of the Duomo (cathedral), I then walked from the Piazza del Duomo down busy streets to a cafe, recording audio all the while. I ordered a cappuccino and finally when I took my seat, I stopped the recording. That night in my hotel I constructed some musical pieces on my laptop to accompany this street audio. The piece would be called "The Still Man". Some fifteen years later it has still not been completed.
But a few others did get completed. For instance, "I Searched and Never Found". This piece was written to evoke the day I went in search of the Crich Tramway Museum in Derbyshire. And sure enough, that piece of music evokes feelings (to me) of a beautiful day climbing hills so high I felt I could touch the sky. Far below was another world with sweeping railway lines occupied from time to time by a far distant train. So far below that the sounds could barely be heard.
Now you are able to musically climb those Peak District hills because, "I Searched And Never Found" appears on my album "Almost There" released by Cherry Red Records on April 9th. A sister album "Something On My Mind" is also simultaneously released by Cherry Red.


These two albums contain many of the pieces for that "Places" project that until recently, were unfinished. And contained on those two albums, are many other pieces that have not previously seen the light of day, some going back 30 years. There are pieces composed for exhibitions and events that were only heard by the public for one day or at most, a week.
Then there are other pieces that emerged from late night studio experiments. Long after the singers and session guys had left, I would jam with machines in an otherwise empty studio, often long into the night. Locked away for years in my studio archives, these "midnight music musings" and "existential electronica experiments" will finally see the light of day on April 9th.
These two albums are not filled with pop tunes. Some of it is a little challenging. But it's the stuff you might find written between the lines of a songwriter.
Enjoy!
"I Searched And Never Found"